**Reviewer Note – Instead of doing individual posts, this trilogy will all be in one post with reviews for each book. And like always I am not going to give too much away about these books. I love them too much to spoil them for you**
Degradation 
Stylo Fantome 
Rating: 
First there was Christian Grey and Gideon Cross, and then Jameson Kane came along and annihilated Grey and Cross. I have read Grey and Cross series, and let me tell you, Kane is hotter, sexier, feistier… and swoony. This story makes all others weak and simple in comparison, and none of those have Sanders!
Someone I met once described Degradation as a book to go into without expectations of it being like other romances. What started off as a challenging and fun game, turned out to be a little more complicated once feelings started surfacing. It took a long time for me to recognize the elements of romance, but subtly they were there, slowly and sinfully making their elemental ways outward capturing my eyes. 
Within the first chapter, I didn't like Tate or Jameson, but by the end of the first chapter I was enthralled with the both of them. As the book progressed I wasn't bothered by the way they talked to each other, dirty, rough, name called, totally degraded one another and I found myself loving it. Totally different than what I am used to. A different romance, more raw and rough. Tate has made her way into my top five favorite book characters. Jameson has made his way into totally messed up boyfriend material. 
A game of degradation isn't always satisfying for one or more people involved, someone always gets hurt.  The ending left me on  a crazy cliffhanger, so I found myself quickly moving onto the second book. 
Add Degradation on Goodreads
Buy, Buy, Buy Degradation on Amazon
Separation 
Stylo Fantome 
Rating: 
Hooked off confident Jameson and bitter Tate, Separation is favorite out of Kane Trilogy. Full of crazy emotions, it was more than an emotional roller coaster, it was a deal breaker and a heart breaker all rolled into one. 
Tate is driven to keep her distance from Jameson, but the sneaky and determined rich man has his ways to get her back. Jameson in his own sick and twisted ways wants to un-complicate the damage that he has done. Tate wants to forget about him, move on from the dark places Jameson has brought her to. She wants to stand alone without making another deal with the devil. 
If Stylo wanted to rip your heart out even more, she definitely did it with Separation. Stylo played the devil bringing up emotions from Degradation bringing them to a whole new level of once she involves the trip. Spinning a whole new web of complications and ways for Tate to try and move past Jameson, Stylo adds comedy, tragedy, heartbreak, and romance and turns the tables taking the story in another direction. Throughout the series, we learn more and more about Jameson and why he is the way he is – his past, his present, and why he is still short sighted when it comes to love and romance. 
Of course, this book ends on another good cliff hanger. And of course, I couldn't stop reading. I had to know how it ends! 
Add Separation on Goodreads
Buy, Buy, Buy Separation  on Amazon
Reparation
Stylo Fantome 
Rating: 
Normally, I would have thrown in the towel by now, but I really had to know what was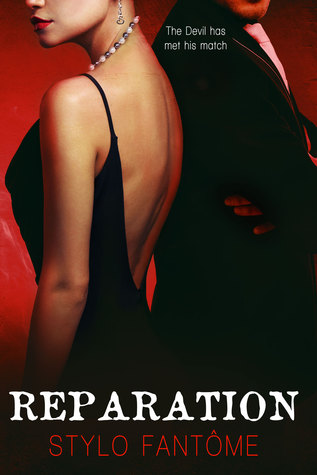 Jameson. What kind of fights and emotional backlash would this book take me through? But it wasn't Jameson, it was Tate. Hellbent on being a crazy ass hell raiser, she is seeking revenge. Payback in the worst ways possible. Detaching herself from who she was, she plays the game one last time. Only her game doesn't turn out the way she expects. Tate could never detach herself from feeling nothing when she explodes with feelings. 
If Tate took a 180 degree turn into someone else, Jameson turned around full circle coming back to the guy he was in book one, but something inside of him changed. Books one and two might have been rough and sexy, but book three brings sexy back in delightful ways. Tate might be hell bent on raising hell, but she really wants to take Jameson out of his control zone even further than the other books and finally makes him realize what he knew all along…. what you'll have to read. 
The Kane Trilogy was a wild and crazy ride, full of emotions, hot wild and degrading sex, but the whole time I was book hooked. Of course, this is my favorite new series. No other hot and heavy series will ever compare or take over this one…. that is until Stylo writes another one. *hint, hint* *Wink, wink*
Add Reparation on Goodreads
Buy, Buy, Buy Reparation on Amazon
Follow Stylo Fantome on Goodreads | Amazon | Facebook