I love this tag! After seeing FICTIONNOCHASER Molly Weasley's character who likes to cook, I absolutely loved their choice. The tag is like a game of book characters and enough spaces to make the dinner party odd, fun, and fresh.
THE RULES:
You can invite any character you want, but there are 10 different categories you need to fill, and there is only room for 11 people…
THE GUEST LIST:
One Character Who Can Cook/Likes to Cook
Zachary Ryan from K.K. Allen's Under the Bleachers. He also feeds Monica chocolate covered strawberries. Move over Monica, a new host is in town!
One Character Who Has Money to Fund the Party
Carlise Cullen, come on in and spend lots of that hard earned money you've made for yourself over the centuries. Oh, of course I'd like a chocolate fountain with the most expensive chocolate. Hm, what's that? Money is no object. I heart you.
One Character Who Might Cause a Scene
Tatum O'Shea, I hate to break it to you, I've read all the Kane Trilogy. You're fun, but you're also a deal breaker. Try not to go all crazy on my guests and become an attention whore. Keep it cool, k?
One Character Who is Funny/Amusing
I can't throw a dinner party without bringing Sandra from Love Hacked. She's funny, southern, and loves fixing people's problems. Oh, and she has information about all kinds of vibrators. Just vibrate with it.
One Character Who is Super Social/Popular
Hermoine Granger is definitely up there on the popular list. She's everyone's favorite! Especially after that time she punched Malfroy in the face.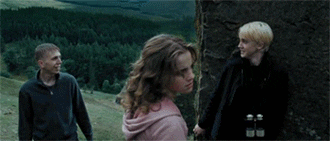 One Villain
Count Olaf from A Series of Unfortunate Events. I can't imagine what mind fuckery he would bring.
One Couple – Doesn't Have to be Romantic
Of course, I am inviting a romantic couple! The choice was difficult, but Brecks and Jamie from A Love Letter to Whiskey would bring angst and romance. Maybe, they might provide some of the best whiskey… hmmm.. sounds magical. I feel drunk off their romance and booze already.
One Hero/Heroine
Inviting a female heroine to me means inviting a female bad ass. One with skill and determination. Katniss from The Hunger Games would be perfect. If she brings her bow and arrow, instead of board games, we'd all learn target practice in my backyard. You know, pre-dinner shenanigans.
One Underappreciated Character
LUNA LOVEGOOD!!!!! I can't believe J.K. Rowling didn't utilize her character enough in the Harry Potter series. All the wonderful between the lines parts where she is missing hurts my book heart. She would make a wonderful addition to my already eclectic guest list. *Sigh* Luna is lovely and wonderful.
One Character of Your Own Choosing
I can't have a dinner party without inviting Cletus Winston. He could bring his famous sausage…. or both (LOL!) Jenn's banana cake, and his witty and smart personality. But watch out dinner guests, he always is plotting something…. *dun,dun,dun!*
I enjoyed this tag! Don't forget to join in and tag me so I can see!